Bergen County Arts Grant Program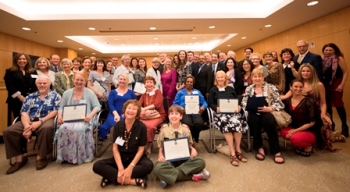 The Bergen County Arts Grant Program, sponsored by the Division of Cultural & Historic Affairs, is open to all County non-profit arts organizations and other non-profits that present Bergen County-based arts programs. Information on eligibility, guidelines, and application process along with new application forms are available in early September.

Application forms will be emailed to current and last year's funding recipients. The next applicable grant cycle is for arts projects or programs taking place January 1 through December 31, 2020. The grant timeline includes Letters of Intent due September 5, 2019 and completed grant applications, due October 17, 2019."

An applicant organization must have its official base and mailing address in Bergen County and must have been presenting arts programs in Bergen for two years or more. Applicants should be tax exempt, 501(c)3 organizations with up- to-date state reports. Please check with the Division at the contact below if there are any questions about eligibility.

The Division actively seeks the participation of all communities in its programs and services and encourages organizations serving ethnic or culturally diverse communities or special constituencies to call for application information. The grant program is competitive and emphasizes artistic excellence in programming, community outreach, arts education, ADA accessibility, good management and institutional development.

To request arts grant information via email, please email glucente@co.bergen.nj.us, or call the Division at 201-336-7292 for more information.
The Arts Grant Program is administered by the Bergen County Department of Parks, Division of Cultural & Historic Affairs, and is made possible in part by funds from the New Jersey State Council on the Arts, Department of State, a Partner Agency of the National Endowment for the Arts.
Arts Section

Assistant

201-336-7292

History Section

Assistant

201-336-7267

Preservation Section

Assistant

201-336-7294
---
Bergen County Department of Parks
One Bergen County Plaza • 4th Floor • Hackensack, NJ 07601-7076
Phone: 201-336-7275