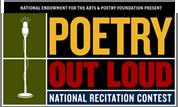 Region 6 Northern NJ Poetry Out Loud Contest National Contest
The Poetry Out Loud: National Recitation Contest is an arts education program that encourages the study of great poetry by offering educational materials and a dynamic recitation competition to high schools across the country. Poetry Out Loud was created in partnership by the National Endowment for the Arts and the Poetry Foundation with the collaboration of state arts agencies as a way to foster the next generation of literary readers by building on the resurgence of poetry as an oral art form, as seen in the slam poetry movement and the popularity of rap music. Through Poetry Out Loud, students master public speaking skills, build self-confidence, and learn about their literary heritage. Since 2005, POL Poetry Out Loud has grown to reach more than 3 million students and 50,000 teachers from 10,000 schools in every state, Washington, DC, the US Virgin Islands and Puerto Rico.
State & Regional Contest structure
New Jersey is divided into six contest regions. The Bergen County Division of Cultural and Historic Affairs hosts the Region 6Northern NJ Poetry Out Loud Contest for Bergen, Passaic and Hudson Counties in conjunction with the NJ State Council on the Arts and its partners. Beginning at the high school classroom level, teachers implement a two-to-three week curriculum using free, standards-based materials, including print and online poetry anthologies containing more than 600 classic and contemporary poems, a teacher's guide, and a CD and a DVD on the art of recitation. Classroom studies culminate with a school contest in which each student selects and recites poems from the Poetry Out Loud anthology. School winners advance to the Region 6 competition. Any teacher or administrator at a New Jersey public, charter, parochial school or home school organization serving grades 9-12, or the age/grade equivalent can register for the program. Registered schools must implement the NJPOL program between the months of September – early January in any classroom, club or after-school program. Two competition winners from each region perform at the NJ State Poetry Out Loud Contest, and ultimately, two state winners go on to the national finals. The Poetry Out Loud National Finals take place in the spring in Washington, DC.
To check for upcoming deadlines or to register your high school for Region 6, go to www.njpol.org; for more information on how the school programs are structured, contact Deonté Griffin-Quick, NJ State Council on the Arts Poetry Out Loud Coordinator, at deonte.griffin@sos.nj.gov. For specific Region 6 contest information, contact the Bergen County Division of Cultural and Historic Affairs at glucente@co.bergen.nj.us.
New Jersey Poetry Out Loud is a project of the New Jersey State Council on the Arts, in collaboration with Mayo Performing Arts Center, ArtPride New Jersey Foundation, and a growing list of local partners. Poetry Out Loud is a partnership of the National Endowment for the Arts, The Poetry Foundation, and the state arts agencies of the United States.
Arts Section

Assistant

201-336-7292

History Section

Assistant

201-336-7267

Preservation Section

Assistant

201-336-7294
---
Bergen County Department of Parks
One Bergen County Plaza • 4th Floor • Hackensack, NJ 07601-7076
Phone: 201-336-7275