FOR IMMEDIATE RELEASE:
August 3, 2022
MEDIA CONTACT:
Derek Sands
This email address is being protected from spambots. You need JavaScript enabled to view it.
2022 "MUSIC IN THE PARK" FREE CONCERT AT THE AMPHITHEATER AT OVERPECK COUNTY PARK
Season ends with concert featuring The Afro-Peruvian Ensemble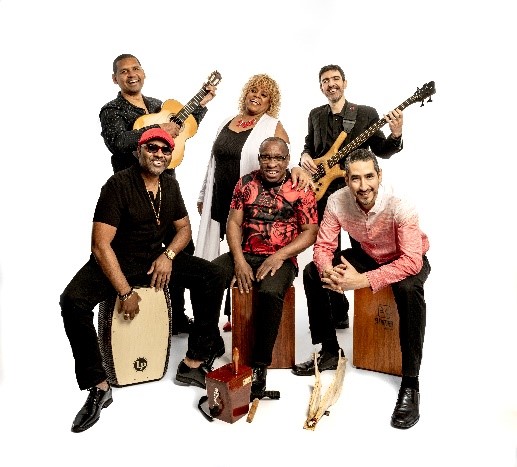 Photo by Matt Dine
Hackensack, N.J. – Bergen County Executive James Tedesco, III and the Bergen County Board of Commissioners invite the public to attend a free music concert featuring The Afro-Peruvian Ensemble, Thursday, August 4, at 7:00 p.m. at The Amphitheater at Overpeck County Park, 199 Challenger Rd, Ridgefield Park. Attendees are encouraged to bring lawn chairs and/or blankets for viewing.
The Afro-Peruvian Ensemble is an unforgettable live experience that celebrates a unique heritage and will get you up on your feet! This amazing ensemble brings you the joyful sounds of the Peruvian coast with a contemporary treatment rooted in the rich Afro-Peruvian tradition. The ensemble's repertoire includes uplifting festejos and zamacuecas, dazzling Peruvian waltzes and hypnotic landos, as well as the "contrapunto de Cajones" (box drums counterpoint) and "contrapunto de Zapateo" (tap dancing competition) classics of the Afro-Peruvian folklore rarely seen in the US.
This all-star ensemble, directed by drummer Hector Morales, includes former Peru Negro singer/dancer, Mariela Valencia, percussionists Jhair Sala and Hector Ferreyra, innovative guitarist and arranger Raul Abbad, along with the extraordinary talents of Ali Bello (Venezuela) on violin and Grammy Award winning Pedro Giraudo (Argentina) on the bass.
For information about the band, visit www.theafro-peruvianensemble.com
For concert info, please call 201-336-7292 or email This email address is being protected from spambots. You need JavaScript enabled to view it.
For more free concert opportunities, join the Bergen County Division of Cultural and Historic Affairs for its Music at the Barn series, featuring concerts at the Wortendyke Barn Bergen County Historic Site (13 Pascack Rd, Park Ridge).
Sunday, August 28, 4pm-6pm – Spiros Exaras Greek Ensemble.
Sunday, September 25, 4pm-6pm – Sharp Edge (Rockabilly)
Sunday, October 30, 1pm-3pm – 12th Annual Bluegrass & Cider
###