Bergen County Board of Commissioners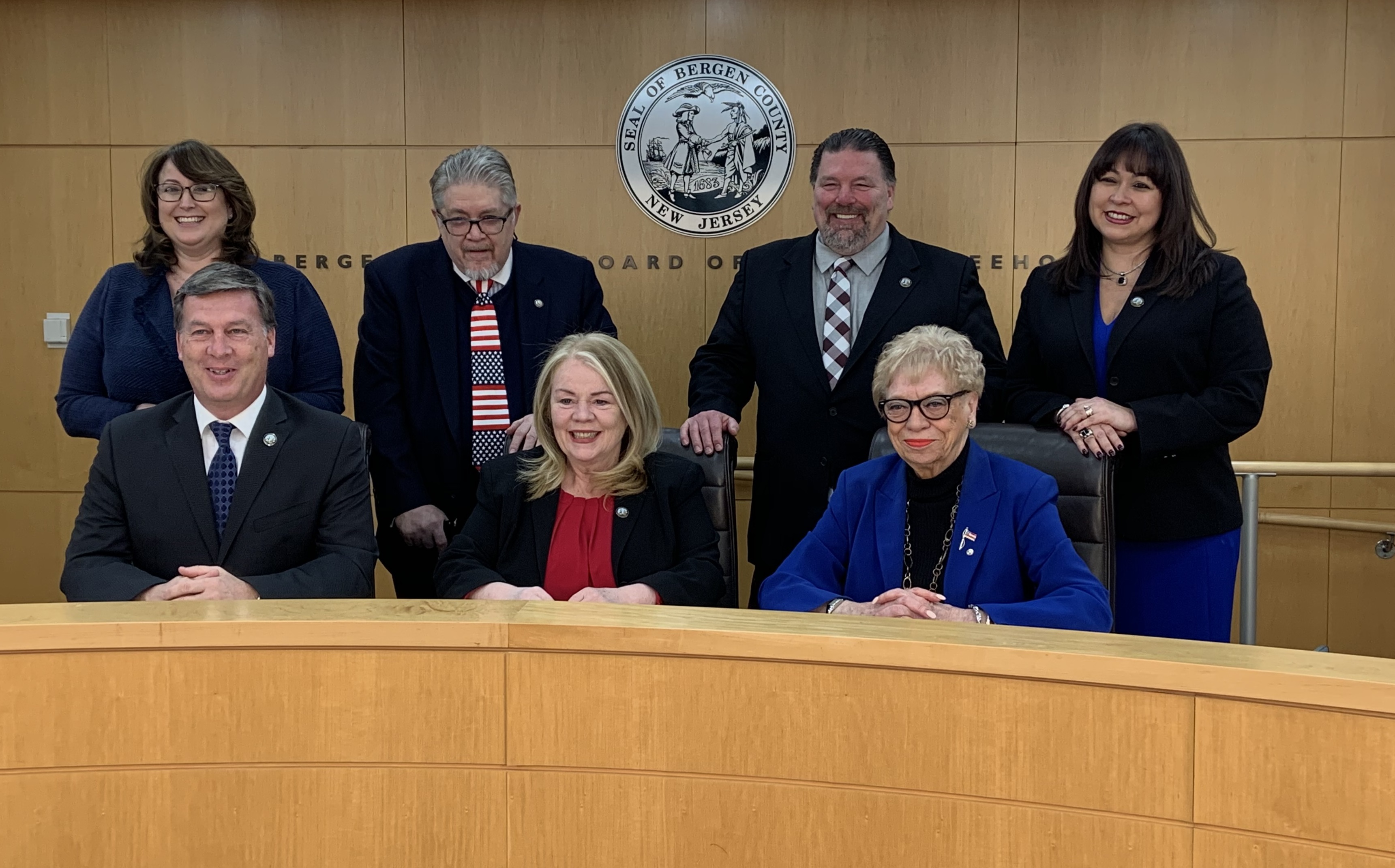 Public Meetings
The Bergen County Board of County Commissioners will hold their Public Meeting on Tuesday January 19, 2020 at 7:00 Click Here for the video stream
The Board of Commissioners hold public meetings on the first and third Wednesday of each month, however sometimes those dates are changed, so please consult the Meeting schedule for up-to-date information on specific meetings.
The Public Meetings held by the Board of Commissioners are held in the Commissioner Public Meeting Room at One Bergen County Plaza.
Work Sessions
The Board of Commissioners holds Work Sessions in the Freeholder Conference Room at One Bergen County Plaza.
Members of the the public are invited to attend the work sessions, but may actively participate only at the public meetings.
Agendas & Minutes
Agendas are available prior to the meetings. Minutes are available following approval.
Most Recent Agenda | View All Agendas and Minutes
Members
The seven members of the Board of Commissioners are elected at-large to three-year, staggered terms. They take office early in January, following the November election.
| | | |
| --- | --- | --- |
| Commissioner | Title | Hometown |
| | Chairman | North Arlington |
| | Vice Chairwoman | Franklin Lakes |
| | Chair Pro Tempore | Fort Lee |
| | Commissioner | Mahwah |
| | Commissioner | Ridgewood |
| | Commissioner | Emerson |
| | Commissioner | Montvale |
Functions of the Board
A commissioner is a legislator on the county level. Bergen County has a unique form of government. Along with the other 20 counties in New Jersey, we have a Board of Commissioners.
County Executive

The County Executive handles the day-to-day operations of Bergen County, appointing the county department heads and overseeing the activities of all departments and divisions. The board approves all contracts signed by the executive.

Administrative Code

The board sets policy under the Administrative Code authored by the commissioners. The code, adopted April 3, 1987, reorganized Bergen County's 304 year-old freeholder form of government and established the eight county departments that we use today.

Duties of the Legislative Body

The Commissioners act as the county's legislative body, much as the U.S. Congress or the State Legislature, giving advice and consent to the actions of the county executive. The board provides a check on the executive's powers and acts as a formulator of policy. Its powers include the ability to:

Adopt the county's administrative code
Pass ordinances and resolutions
Review, modify, and adopt operating and capital budgets
Contract with municipalities

Finances

Study and evaluate the county's annual budget before approving it
Oversee the provision of funds for the nine county departments including Bergen Regional Medical Center
Supervise the funds for:

Bergen Community College
Bergen County Special Services School District
Bergen County Technical Schools
Bergen County Jail and Police Department
County parks, roads, and bridges
Lara Rodriguez

Clerk to the Board

Facebook
---
Bergen County Board of Commissioners
One Bergen County Plaza • 5th Floor • Hackensack, NJ 07601-7076
Phone: 201-336-6526 • Fax:201-336-6290