Bergen County Food Security Task Force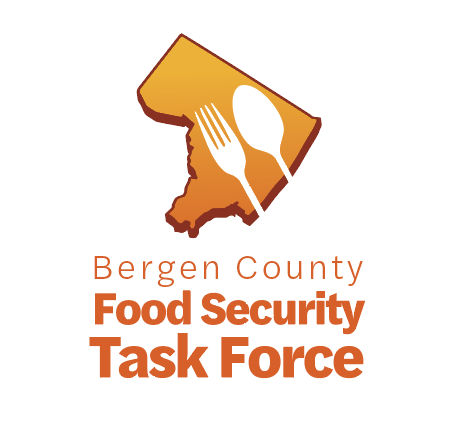 COVID-19 exacerbated food insecurity levels across Bergen County. On July 15th 2020, Bergen County launched the Food Security Task Force led by Commissioner Tracy Zur and the County Executive Office along with key leadership from local nonprofits and key representatives from across the County who manage food pantries and local meal distribution efforts daily. Together, this Task Force is charged with devising new solutions to ensure every County resident has access to healthy food options during this pandemic and afterwards. While there are over 80+ emergency food providers spread across the County, a recent survey indicated the majority of these sites are experiencing a 50% increase in clients since March 2020 with some sites now serving an increase of more than 200%. Many of these Providers are reliant on private individual donations and supplies are quickly dwindling as they struggle to meet the new demand.
What is Food Insecurity? Having limited or uncertain access to adequate supplies of food to meet nutritional standards. Hunger is a symptom of being food insecure. Prior to COVID-19, at least 1 in 14 residents in Bergen County were experiencing food insecurity, according to Feeding America. Today, we know from recent surveys that in a single week in Bergen County, up to 20,000+ people will rely on donated food.
The Bergen County Food Security Task Force's Goals:
Ensure Households are Fed with Healthy Options
Keep Local Pantries and Food Distribution Efforts stocked
Create a Network Amongst Community Food Providers for increased Cooperation
Continuously Track the Levels of Food Insecurity across County
Connect our Food Insecure Population to a wider array of Social Services
Who We Are: BC Food Security Task Force Members
Bergen County Administration
Bergen County Commissioners
Bergen County Department of Human Services
Bergen County Meals on Wheels
Bergen County Board of Social Services
Bergen County Superintendent of Schools
Bergenfield Food Pantry
Bergen Volunteers
Bergen Volunteer Medical Initiative
Center for Food Action
Community Dinner Table, Palisades Park
Community Food Bank of NJ
Dumont Food Pantry
Family Promise
Franciscan Community Development Center, Fairview
Glen Rock Gurudwara
Greater Bergen Community Action
Hackensack, Iglesia Cristiana Casa del Alfarero
Hackensack, Mount Olive Baptist Church
Helping Hands, Teaneck
Jewish Family Services
Meadowlands YMCA Family Success Center, Little Ferry
Meals with a Mission, Garfield
Norwood Food Pantry
Russell Berrie Foundation
Table to Table
Triboro Pantry, Park Ridge
IN THE NEWS
August 2020:
https://www.newsbreak.com/new-jersey/hackensack/news/2054976199932/bergen-county-donates-computers-to-local-food-pantries
July 2020:
https://jewishstandard.timesofisrael.com/combatting-food-insecurity/?fbclid=IwAR1-wTENoUBjB3fdc15pO0OqXjbeos9HbmuF9_8hg4_ewv0u6B61V0qs0Dg
https://www.northjersey.com/story/news/bergen/2020/07/22/nj-food-pantries-join-new-bergen-county-task-force-food-insecurity/5474816002/
https://www.co.bergen.nj.us/public-information/press-releases/310-bergen-county-announces-food-security-task-force-to-combat-hunger-of-residents-affected-by-covid-19-pandemic123
RESOURCES
If you are in need of food resources, please use the Google map to find the nearest pantry, meal distribution, or available delivery service in Bergen County. Or please click on this link.
SNAP - Are you familiar with the Supplemental Nutrition Assistance Program?
You may be eligible for the Supplemental Nutrition Assistance Program (SNAP). SNAP issues electronic benefits that can be used like cash to purchase food. SNAP helps low-income working people, senior citizens, the disabled and others feed their families. Feel free to call the Bergen County Board of Social Services at 201- 368-4200 to learn more about your eligibility or go directly to the online application. https://www.nj.gov/humanservices/njsnap/
HOW YOU CAN HELP
If you would like to send a donation, the Task Force can accept monetary donations to purchase more supplies for those food provider sites most in need. Monetary donations can also be used to assist in infrastructure purchases such as refrigerated trucks to transport supplies across the County or new software to assist food pantries in tracking their inventory and levels of service. If interested, please contact Marisa Tugultschinow at mtugultschinow@co.bergen.nj.us or email BCFoodTaskForce2020@gmail.com
If you are looking to donate food items, use the Google map to find a site convenient to you and please call or email in advance to find out the drop off hours or any social distancing requirements.
Calling All VOLUNTEERS!
If you are interested in donating your time to support one of the many community food providers at their events or regular operations, please check out The Bergen Volunteers website to find an updated database of volunteer opportunities spread across the County!
http://bergenvolunteers.galaxydigital.com/need/?s=1&need_init_id=3487
CONTACT US
If you have any questions, please do not hesitate to reach out. We are happy to speak with you about the goals of the Food Security Task Force and answer any questions. If you are a Food Provider and in need of supplies, please email BCFoodTaskForce2020@gmail.com or reach out to Marisa Tugultschinow at mtugultschinow@co.bergen.nj.us.
Follow us on Facebook @BCFoodTaskForce2020 to learn about available food resources!