Information and Assistance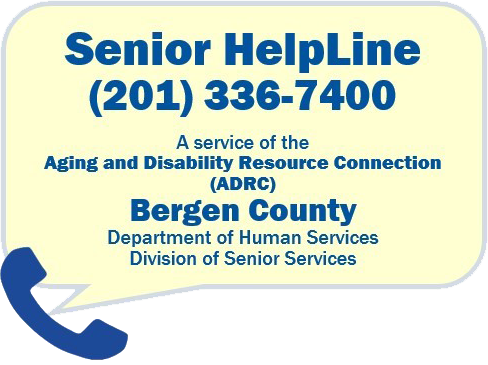 Bergen County, Division of Senior Services/ADRC Information & Assistance/Care Management Unit serves as the County's central source of information and services for older adults, caregivers, and those over the age of 18 with a disability. Under the guidelines of Bergen Aging and Disability Resource Connection (ADRC), program helps older adults and their caregivers to access necessary services.
Resources we can help you find:
Financial assistance
Aging-in-place and other long-term care options
Housing information including home modifications and repairs
Transportation
Caregiver information and support
Health, wellness, nutrition
Legal, advocacy, and keeping adults safe
Employment and volunteer opportunities
Social activities
Tax relief and services
And more!
Services we offer:
Information about programs and services
Benefits counseling and referrals
Assistance filling out forms and applying for benefits
Medicare counseling including Medicare Savings Programs
Access to publicly funded long-term care programs
Wellness Check program
Care Management referral and coordination
Lorraine Joewono
Director
Phone: 201-336-7400 • Fax: 201-336-7424
---
Bergen County Department of Human Services
One Bergen County Plaza • 2nd Floor • Hackensack, NJ 07601-7076
Phone: 201-336-7474 • Fax: 201-336-7450
Hours: 8:30 am - 8:30 pm (varies by division)