What is Domestic Violence?
Domestic violence is not a disagreement, an anger management issue, or a normal part of an intimate relationship. It is a systematic pattern of abusive behavior with intent to gain and maintain power and control over another person. This includes, dating, partner, spousal and elder abuse, as well as abuse between present or former household members. Domestic violence can happen to anyone, regardless of their race, religion, age, socio-economic background, level of education, or sexual orientation. Domestic violence is a crime.

The Cycle of Violence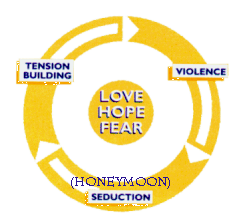 "Cycle of Violence" refers to the pattern that domestic violence tends to follow. There are three distinct phases to the cycle:
Tension-building
Acute explosion
Honeymoon
Tension-Building
The tension-building period is usually the longest period of the cycle, and is generally characterized by a high level of stress. For example, abusers may be moody, sullen, fault-finding and very critical. They might withdraw affection, belittle their partner, drink or abuse drugs, make threats, or even destroy their partner's personal property.
Meanwhile, victims may attempt to keep their partner calm and placate them, become overly accommodating, agreeable, solicitous and nurturing. Victims may also become either silent or overly talkative, withdraw from and avoid family and friends, try to keep the kids quiet and "out of the way," or constantly feel as if they are "walking on eggshells."
Acute Explosion
The acute explosion is usually the briefest period of the cycle as well as the most severe. During an explosion, abusers might beat, rape, isolate, imprison, or attack their partner with a weapon. They may become extremely verbally abusive or humiliate and publicly degrade their partner. Victims will often try to protect themselves any way they can, attempt to reason with or calm their abuser, call the police, fight back, or leave or attempt to leave.
Honeymoon
The honeymoon period might not exist in every abusive relationship, and is often shorter than the tension-building period. Abusers may apologize, cry and beg forgiveness, make declarations of love, promise to get help, send extravagant gifts, and promise it will never happen again. Victims often accept the apologies, believing that it will never happen again, and may even cancel legal proceedings or appointments with a counselor because the situation "seems to be better."
Escalation
Violence in a relationship tends to escalate in frequency and severity over time without proper intervention. It typically begins with verbal and emotional abuse and is often not identified as violence. This can escalate to physical and/or sexual abuse which becomes increasingly more violent and potentially life-threatening. All forms of abuse should be recognized as violent and potentially dangerous.
Identifying an Abusive Relationship
Does your partner:
Put you down, constantly criticize you, or say blatantly cruel, hurtful things?
Act in a controlling, jealous manner?
Criticize the way you parent your children?
Give you the "silent treatment"?
Monitor your time/use of telephone/money?
Accuse you of having affairs?
Discourage or prevent you from seeing your family?
Tell you that your feelings are irrational and/or crazy?
Blame you for his/her use of violence?
Threaten to hurt him/her self if you don't do what he/she wants?
Threaten to take your children away from you?
How do I know if I am using abusive behavior toward others....
Some questions to ask yourself:
Am I being threatening or violent to others?
Do others feel intimidated when they are around me?
Can I cope with negative emotions without becoming verbally or physically abusive?
Can others disagree or express anger toward me without being attacked?
Do I allow others to make decisions about their lives without intimidation or retaliation?
Am I able to hear and respect what they are saying even though I may disagree?
Can others negotiate with me without being attacked or controlling?
Do I respect others rights to say no or disagree with me?
Am I able to express feelings other than anger?
Do I blame others for my anger, frustrations, and violence?
Getting Help
You are not alone-help is available. To speak to someone confidentially, call one of the following hotlines:
National Domestic Violence Hotline: 800-799-SAFE (7233)
New Jersey Domestic Violence Hotline: 800-572-7233
Bergen County, New Jersey, Domestic Violence Hotline: 201-336-7575
Types of Abuse
Abuse is any behavior used to control or intimidate another person and can be verbal, emotional, physical, or sexual in nature.
Emotional/Psychological Abuse
Name-calling, putdowns, threats, stalking, intimidation, degradation, tracking time, isolating victim from family or friends, forbidding victim to work or participate in outside activities, sleep deprivation, interrogation, accusing, using money to control, threatening to "out" a gay or lesbian partner, harming pets, destroying property, throwing objects near victim
Physical Abuse
Pushing, shoving, slapping, kicking, punching, biting, restraint, hair pulling, strangulation, pinching, burning, grabbing, shaking, scratching, spitting, using weapons, throwing objects at victim
Sexual Abuse
Any non-consensual sexual act or behavior, including forced sex, unwanted touching, sexual degradation and violence targeted at the genital area.
---
Division of Alternatives to Domestic Violence
One Bergen County Plaza • 2nd Floor • Hackensack, NJ 07601-7076
Email: ADV@co.bergen.nj.us
24-hour Crisis Hotline: 201-336-7575 • Fax: 201-336-7555
Hours:
Monday - Thursday: 9:00 a.m. - 9:00 p.m.
Friday: 9:00 a.m. - 4:30 p.m.