Music at the Wortendyke Barn
"Music at the Barn" Sunday Concert Series, Wortendyke Barn, Park Ridge
The Music at the Barn concert series has been running for 13 years and allows the public to share a glimpse of the once bucolic setting of a Bergen County 18th C. Dutch barn in the Pascack Valley. There are four concerts a year, from July through October.
Limited seating is provided; people are welcome to bring chairs/blankets and pack a picnic.
2023 Series:
July 30, 4-6:30pm: Dean Shot & His Dynamic Band (Jump Blues)
Aug. 27, 4-6:30pm: Matt Chertkoff Trio & Houston Person (Jazz)
Sept. 17, 4-6:30pm: Crash Gordon & Debra Dynamite with Dave Del Monte (Rockabilly)
Oct. 29, 1-3:30pm: The Cider Barn Band (13th Annual Bluegrass & Cider)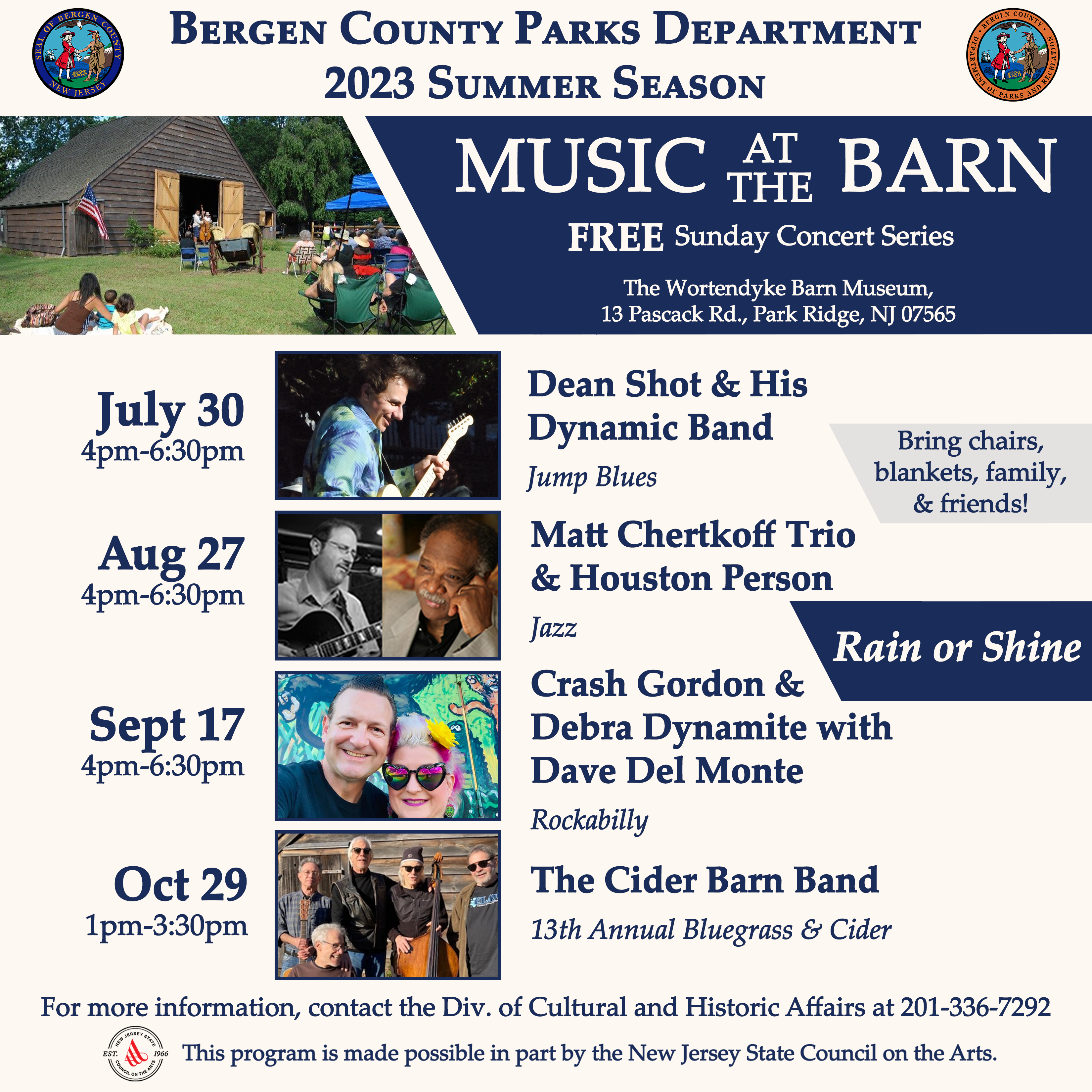 The Wortendyke Barn has been a Pascack Valley landmark since its construction on 500 acres of land bought by the Wortendyke family in 1735. It was used continually as a barn well into the 20th century and is one of only six pure Dutch barn types in Bergen County. This New World Dutch Barn showcases Bergen County's history through unique, educational exhibits designed to let you explore farm life.
In 1997 the barn opened as a museum with agriculture exhibits that include 18th and 19th century farm implements and tools, and the history of the Wortendyke family farm. The main feature of the museum is the barn itself, an outstanding example of the vernacular architecture referred to as a New World Dutch Barn.
For information on the museum, call the Division of Historic and Cultural Affairs, Bergen County Department of Parks, at (201) 336-7267. For concert info, please email: glucente@co.bergen.nj.us
This is a free show sponsored by the Bergen County Department of Parks, Division of Cultural and Historic Affairs with funds made possible in part by the NJ State Council on the Arts/Department of State, a Partner Agency of the National Endowment for the Arts.
Arts Coordinator
Greg Lucente
201-336-7292
---
Bergen County Department of Parks
One Bergen County Plaza • 4th Floor • Hackensack, NJ 07601-7076
Phone: 201-336-7275